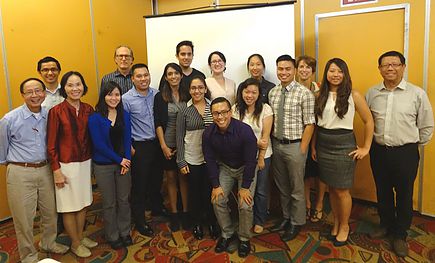 Congratulations to the SSPPS Pharmacy Students for the wonderful presentations of their Summer Research works:
Khushi Gill presented on Risk factors for Osteoporosis in relation with Body Mass Index

Michael Pham spoke on Hepatitis B and C Education in Asian Populations in San Diego County

Tuan Phan discussed on Hepatitis B Screening in Hard to Reach Areas in San Diego County

Shareen Faltas share results on Hepatitis C screening in Asian populations in San Diego County.
Sandy Chong also did a presentation of the FIP (International Pharmaceutical Federation) Meeting that she attended in Dusseldorf, Germany in the past weeks. Next year's meeting will be in South America. Everyone is welcomed to attend!
Please join this week's Making Strides Walk for Breast Cancer in Balboa Park on Sun Oct 18. Our team name is "Fighting as One", and Sandy, team leader, will give directions to register, for the American Cancer Society to have a head count of how many will participate.