Hepatitis Delta - The Hidden Epidemic: Full Webinar Recording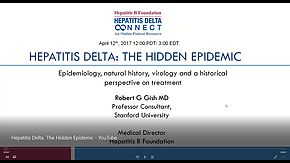 Watch the full webinar by Dr. Robert Gish - that will focus on hepatitis B global epidemiology, as well as hepatitis D testing, management and treatment. This interactive session will discuss how we can work together to improve awareness and testing for HBV co-infection, and the goals of Hepatitis B Foundation's Hepatitis Delta Connect program.
» For more information, visit Hepatitis B Foundation Hepatitis Delta Connect website!