Medicare Learning Network releases update on hepatitis C testing benefit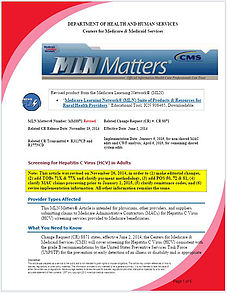 On June 2, 2014, the Centers for Medicare & Medicaid Services (CMS) announced that Medicare will cover hepatitis C testing at no cost to beneficiaries whom the U.S. Preventive Services Task Force recommends be screened. Specifically, Medicare will cover a one-time test for beneficiaries who are born from 1945 through 1965 and ongoing tests for those who are at risk.
Updated 11/26/2014 by Medicare Learning Network:
Bulletin now includes information about the new benefit, including billing codes.