Dose Response with the RNA Interference Therapy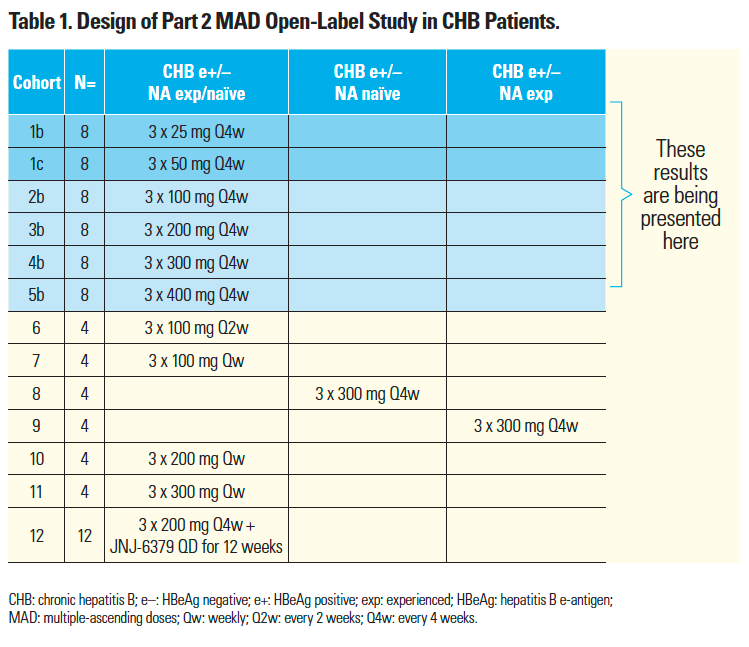 Dose Response with the RNA Interference Therapy JNJ-3989 Combined with Nucleos(t)ide Analogue Treatment in Expanded Cohorts of Patients with Chronic Hepatitis B
Current therapies for chronic hepatitis B (CHB) are a nucleos(t)ide analogue (NA; tenofovir disoproxil [TDF], tenofovir alafenamide, or entecavir [ETV]) or sometimes pegylated interferon.1,2
After five years on NA monotherapy, only 0–3% of patients will achieve a functional cure, defined clinically as hepatitis B surface antigen (HBsAg) loss with or without anti-HBs seroconversion.1–3
RNA interference (RNAi) therapy silences HBV RNA transcripts thereby reducing HBsAg and all other viral products and has demonstrated promising activity as a potential component of finite therapy for CHB patients.4–6
JNJ-73763989 (JNJ-3989; ARO-HBV) was designed to silence HBV RNA transcripts from episomal cccDNA and host-integrated HBV DNA.
In part 2 of the study AROHBV1001 (NCT03365947)⁷ in CHB patients, JNJ-3989 reduced serum HBsAg levels by ≥1 log10 in all patients receiving three JNJ-3989 doses (100–400 mg, one every 4 weeks [Q4w]) with an NA (TDF or ETV), regardless of baseline hepatitis B e-antigen (HBeAg) status or prior NA therapy.7
Given the lack of a dose response with 100–400 mg Q4w JNJ-3989,⁷ cohorts 2b–5b (Table 1) were expanded from four to eight patients, and two lower dose cohorts 1b and 1c (25 and 50 mg Q4w, respectively) were added to study AROHBV1001.
Efficacy data up to Day 113 are presented (i.e. two months post JNJ-3989 dosing) for cohorts 2b–5b (100–400 mg Q4w JNJ-3989), and cohorts 1b and 1c (Table 1), and safety data are shown through Day 113.