Liver Lady Coloring Books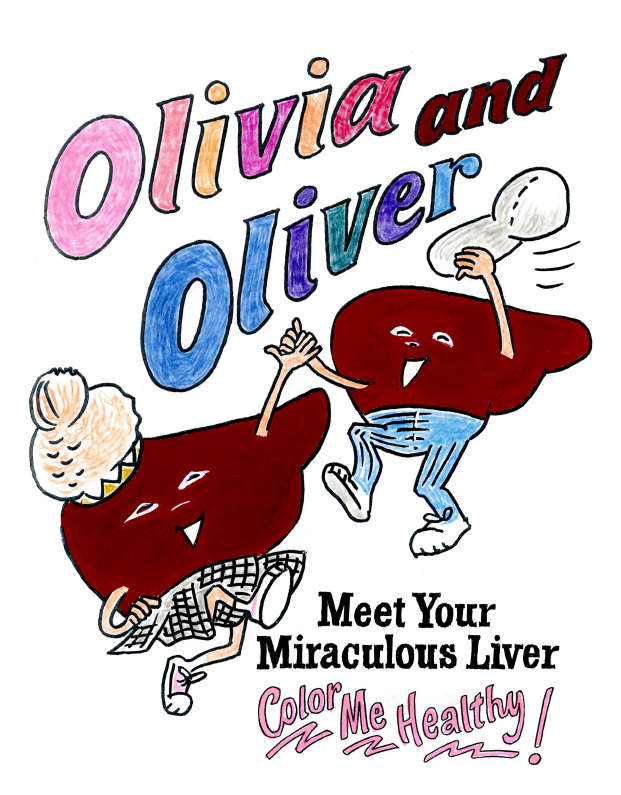 A letter from the Liver Lady
Dear Friends of the Liver,
We have attached copies of our coloring book Olivia and Oliver - Meet Your Miraculous Liver in English and Spanish to share with your children, their friends. . . and any teachers you know who are looking for new and interesting projects for their "Students At Home". It has been a great way to reach parents, most of whom are uninformed about their own miraculous liver. Your help is needed to spread the word and fill the enormous liver knowledge gap essential to understanding why and how to protect ones liver from the devastating consequences of obesity, 13 types of related cancers, diabetes, fatty liver diseases, high blood pressure, high cholesterol, cardiovascular events leading to heart attacks and strokes, etc. . . all liver related and potentially preventable.
Did you know infants as young as 2 years of age are currently being diagnosed with fatty livers? Chubby babies are cute, but more likely to be obese adults dealing with a lifetime of liver related health diseases. As you know, we have been encouraging Moms for decades to avoid over-feeding their babies and feeding them sugary drinks and treats that can lead to obesity and the development of plaque in infants' blood vessels called atherosclerosis. Research studies are investigating how and why some babies are born with fatty livers and how some of them clear the fat spontaneously.
Ads promoting healthy diet and exercise to control one's weight and to avoid having a heart attack fail to mention the vital role the liver plays in the production and excretion of cholesterol. There is no mention of how overfeeding babies beginning on Day One, can cause a build-up of cholesterol in blood vessels. Tragically severely obese teenagers have developed vascular aging and blockage of major blood vessels underlying the potential for heart attacks and strokes.
Many studies are going on to identify the genesis of the various types of fatty liver diseases. However, until these questions are answered and effective treatments are found, eating a healthy diet and exercising regularly to control weight are currently the only option for patients with fatty liver diseases.
While waiting for a "Magic Bullet" to solve the ever increasing problem of obesity, it is up to each of us to make sure our children get off on the right start at home with what we choose to feed them from infancy on throughout adulthood. Learn why and how to help them develop healthy food and lifestyle behaviors. Check out DVDs and brochures at www:liver-health.org to help children stay healthy. Help those at high risk of being infected by COVID19 to know how to protect their liver … their body's guardian angel and life support system.
Thank you as always for your continued support of LHI's mission. Please do let us know if you have any suggestions, or contact we can follow up with in efforts to promote liver health education.
Sincerely,
Thelma King Thiel
Download English Coloring Book